I cannot believe it's week FIVE of the One Room Challenge! Week one, two, three and four have blurred together in my head, and now I'm haunted with anxiety of finishing on time!
Most of the past week was spent painting and caulking. If you plan to install panel molding or board and batten in your home, do not underestimate how much time you'll spend applying caulk!
After the media unit I initially planned to use fell through, I moved on to plan B. Enter this super ugly buffet, found at auction. Something was charming about it, and the price was right at $100.
We sanded and painted it, and removed the doors that concealed the interior drawers. We then removed the top drawer to make space for the TV components. I'm waiting for the new handles and some additional trim, but I'm so please with how it is turning out!
This week, Melissa, from Old New House, came over for a rug showing. I feel very fortunate to have a neighbor who runs the coolest mom and pop shop in the county. Melissa brought over a dozen rugs to try out, which I narrowed down to four.
I shared the top contenders on Instagram, and the overwhelming vote was for rug #2. You'll have to wait until next week to see which one I picked!
We also received a rug from eSale rugs, one of the generous ORC sponsors. The rug is from their Hamedan collection. If you're looking for an affordable, vintage rug, eSale rugs is a great resource. The rug I selected retails for $419.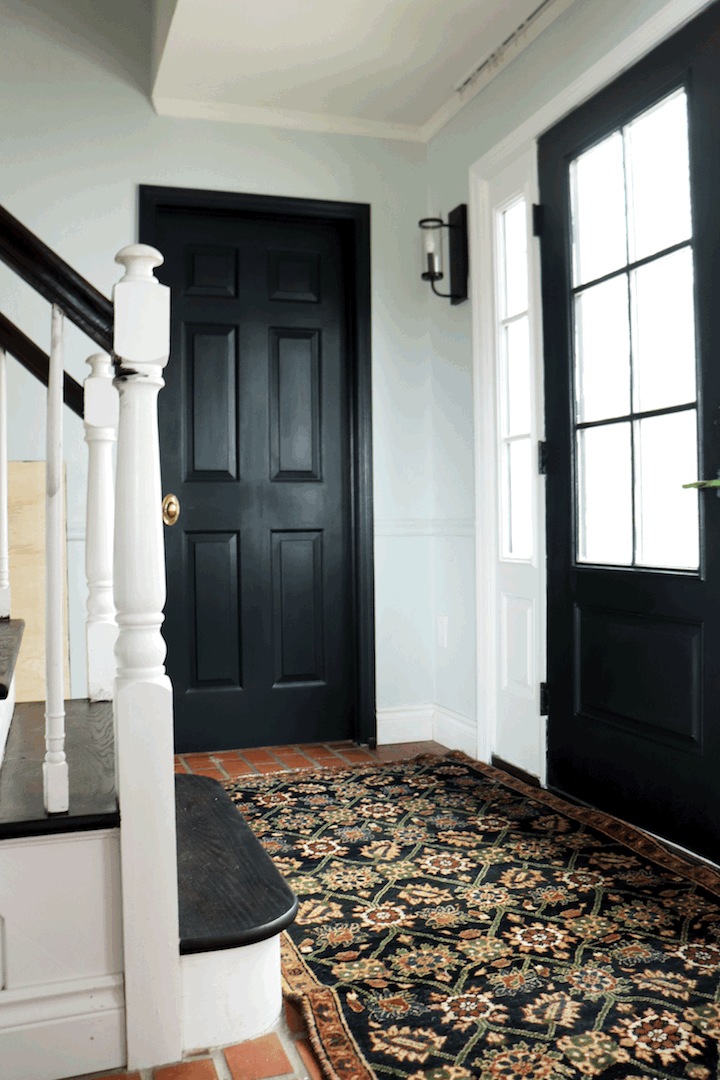 So what's left to do?
Put the finishing coat of paint on the staircase and apply polyurethane

Touch up the paint in the foyer and living room

Install the chandelier + sconces. I've had a pendant for six months, and finally, it's time to hang it! As for the sconces, I purchased a pair on eBay a month ago, and they still haven't turned up....

Replace the newel posts. The plan is to encase the existing newel posts and add brass finials on top.

Fireplace a makeover: The brick fireplace surround isn't doing it for me. Initially, the plan was to plaster over the brick, but as it turns out, that is a very serious DIY. I got a quote to have it professionally refinished and it came in very high at $1,500. Then, my dad had a stroke of genius while at Home Depot. The new plan is to cover the brick with cement board and Venetian plaster over it.
On top of these last projects. I have to style the rooms, take photographs, edit the photos and have a blog ready for you by next Wednesday! Chances I pull an all-nighter next Tuesday = very likely.
I hope you've enjoyed following my ORC journey. I am so excited to share the finished room with you next week!
Please be sure to check out the 19 other featured ORC participants and the hundreds of guest bloggers who are working like crazy to transform their homes in six weeks!
Apartment 34 | Beginning in the Middle | Coco & Jack
The English Room | The Gold Hive
Gray Malin | Jenna Sue Design | Jojotastic
Kelly Rogers Int.| Linda Holt | Marcus Design
Michelle Gage | Natasha Habermann |
The Painted House | Rambling Renovators
Sacramento Street | Shannon Claire | Sketch 42 |
Stephanie Kraus | BISOU STYLE FOR SMPL
Media Partner House Beautiful | TM by ORC