I thought I'd have the whole house organized by the end of January, but I was wrong. It's February, and I'm still finding closets and drawers to sort through.
I've come to realize that organizing is a two-step process. Eliminating the excess and finding a place for everything is step one. Step two is using a fine tooth comb to perfect and ensure the continued function of the organizational system you put in place.
Over the weekend, I turned my attention to the pantry, laundry room, linen closet, and bathrooms. Each area was a complete disaster, and I'm très embarrassed to show you the before pictures, but alas, I promised to be honest!
IF YOU'RE IN AN RSS READER, YOU'LL HAVE TO CLICK THROUGH FOR BEFORE AND AFTERS!
Linen closet: I DO have an excuse for why it was SO BAD. Our pipes froze in the upstairs bathroom, and the access to the plumbing is through the linen closet. To keep the pipes insulated, I had to shove all of my linens inside the wall until we had them adequately protected.
TIPS: Use grosgrain to organize linens by size (i.e., king sheets get a gold ribbon, and queen get pink). Keeping sheets tied in grosgrain not only looks pretty, but it holds them together; linens have a way of spreading out.
I do not store all of my linens in the linen closet. I keep a spare duvet, sheet set, towels and pillows within a zipped laundry bag in the guest bedroom closet. When guests arrive, I have everything ready to go in one place.
HOW I'LL IMPROVE IT: I plan to add one more shelf; there is way too much space in between each shelf.
PANTRY: Equally scary as the linen closet, it was our dumping ground for everything that didn't have a spot in the kitchen. Now, the pantry is only for things cat related, bird food, vitamins, the microwave, and our dirty boots.
TIPS: Give your closets a purpose. To keep your organization plan intact, make a strict list of what is allowed and what is forbidden within the closet.
HOW I'LL IMPROVE IT: As with the linen closet, there is way too much space in between shelves. I'll add a few more shelves, and add a section for dog food, because yes,
WE'RE GETTING A DOG!
LAUNDRY ROOM: The laundry room wasn't the worst offender, but the cabinets were a bit unorganized, and they inherited most of the forbidden pantry items.
TIPS: Our laundry room is also the downstairs bathroom. I've concluded that it's better to embrace the fact that it is a laundry room, rather than conceal the tools I use. Before, I was storing my dustpan, broom, and drying rack on the side of the washing machine; they were annoying to access and always looked cluttered. I decided to hang the broom and dustpan on the wall. I then used command hooks which allow me to attach the drying rack on the wall.
HOW I'LL IMPROVE IT: I moved all of our frequently used tools and doodads from the pantry to the laundry, but the boxes that hold them don't fit well within the cabinets, and they're overflowing and disorganized. Step two will be finding better containers and organizing all of the loose picture hooks, screws, nails, batteries, etc.
UPSTAIRS BATHROOM: I've never been able to keep my makeup drawers tidy. After reading "Woman Code," I decided to purge all of my toxic makeup. I was able to pare down the number of products I use, but the drawers still found a way to get disorganized.
TIPS: I started thinking about Marie Kondo, and how she stores everything on end. Once again, using grosgrain, I came up with a smart solution. I attached a thick piece of grosgrain to the side of my drawer with a staple gun. In effect, it made a pocket which holds all of my skinny products: lipstick, mascara, foundation, etc. So far, it's working like a charm!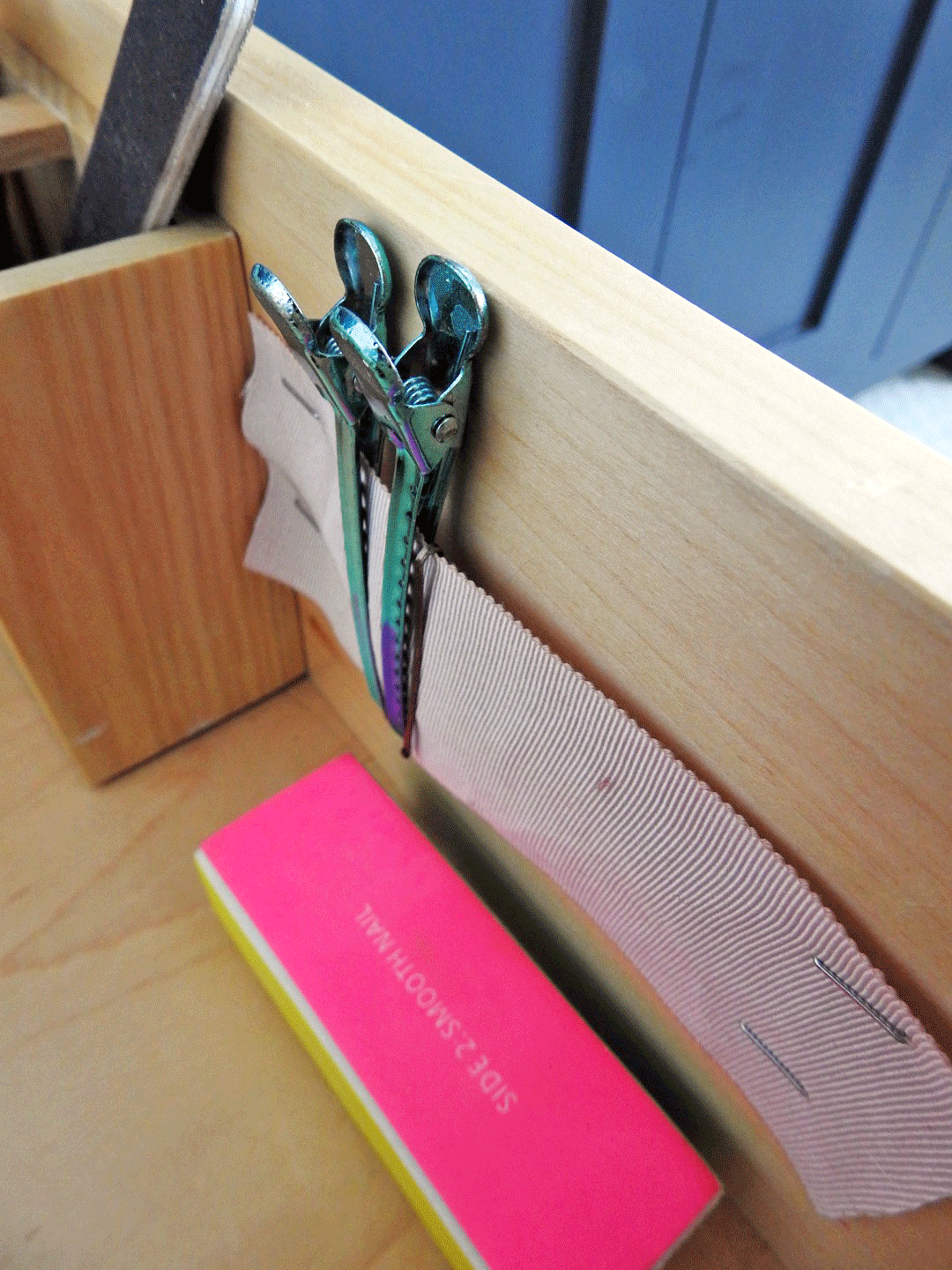 HOW I'LL IMPROVE IT: I've come to expect that these drawers may get unruly, but I'll keep close tabs on what I'm collecting. When I pledged to go non-toxic with my beauty products, I also canceled my Birchbox subscription. While I loved getting a little package in the mail each month, the products accumulated like crazy!
I hope these tips have been helpful! Looking for more organization inspiration?
BEDROOM // KITCHEN // ENTRYWAY